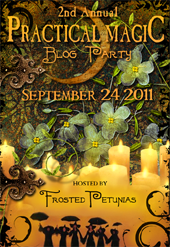 Last year's party was a great excuse for me to mix one of my favorite witchy movies with amigurumi. And this year I can mix the movie with my new found love of freezer paper!
Roses are a big theme in the movie and next week my middle school kids and I will be using rose stencils to design our own shirts. Granted, the middle school version won't be followed by the kids becoming possessed by the ghost of Jimmy Angelove. :) I thought I'd pass on the really easy & cheap technique.
Materials Needed
-
Freezer paper (you can find it for cheap at most grocery stores)
-
Something you'd like to stencil (shirts, jeans, paper, almost all surfaces work for this)
-
Craft cutting board or cardboard
-
Acrylic paint of the color of your choice
- Optional: An extremely cute hamster that has escaped from his ball while photographing.
All total this costs about $15-$20, but it takes very little freezer paper and paint to do one stencil. Once you have the items, the only thing that may cost money is the thing you want to stencil on.
Step 1: Trace your image onto the freezer paper with the shiny side down (the shiny side is what will stick and peel off of the surface easily).
Step 2: Cut out your design with the exacto/craft knife. Make sure you think through how you're going to do this ahead of time. Some parts can get lost in cutting if they're not attached to the rest of the drawing – like a circle within a circle.
Step 3: Iron your surface smooth if it's fabric. Place the stencil shiny side down where you'd like it to be and iron it onto the surface. This keeps the paper sticking to the surface so you don't have paint bleeding under the paper (I wrecked a shirt twice like this.).
Step 4: Create a paint pallet and dab the paint onto the stenciled surface. DO NOT USE STROKES! This will move the paper around and cause bleeding.
Step 5: You don't even have to wait for this to dry! Carefully peel off your stencil, and you're done!